Payment Method



What Payment Methods do we use?

PayPal
Credit Cards

( Visa, MasterCard, American Express, Discover)



How to pay with Credit Card through PayPal

Do not have a PayPal account. Want to pay quickly with a credit card? Use the "Pay By Credit Card" button below to Checkout.

You will be redirected to the PayPal checkout page(as the following picture)



Once there you may either Login to your PayPal account if you have one , or If you do not have a PayPal account simply click the button that says;
"Pay with a debit or credit card, or Bill Me Later".
You will then be able to enter your credit card information and finish the payment.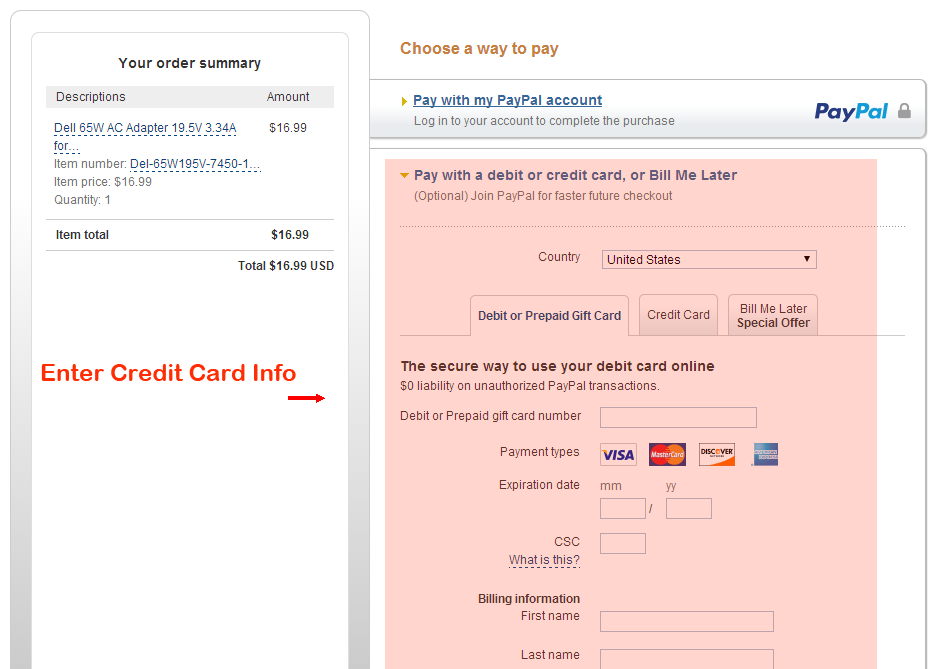 Is it safe to pay with Credit Card through PayPal?




PayPal is the trusted leader in online payments, enabling buyers and businesses to send and receive money online. PayPal has over 100 million member accounts in 190 countries and regions. It's accepted by merchants everywhere.

PayPal helps protect your credit card information with industry-leading security and fraud prevention systems. When you use PayPal, your financial information is never shared with the merchant.

1. PayPal is guaranteed against fraud and identity theft. PayPal guarantees 100% protection against unauthorized payments from your account. Every transaction is confirmed by email to the PayPal account holder. Any transaction you wish to dispute will give you access to a 24/7 support team of analysts who will sort out your problem for you.
2. Purchases can also be insured up to $1000 through PayPal. A service called "PayPal Buyer Protection" is another way that PayPal will certify that certain sellers are trustworthy.
3. PayPal's Anti-Fraud Team works 24/7 Using sophisticated risk models and advanced technology, the team is able to detect, and often predict, suspicious activity to help eliminate identity theft. The anti-fraud team's sole job is to make every PayPal transaction as safe and seamless as possible.




What credit cards type does Paypal accept?




Visa
MasterCard
American

Express


Discover




Why does PayPal keep rejecting my credit/debit card?




If you're credit/debit card is being rejected by PayPal with the message "The card you entered cannot be used for this payment. Please enter a different credit or debit card number." it might be due to one of the following reasons:
1. Your card is associated with a specific PayPal account, and you're not logging in with that particular account.
2. Your card was associated with a PayPal account that has since been closed.
3. You've linked the card to a PayPal account, but have not yet confirmed it.
4. You've exceeded your card limit with the PayPal system.
5. Your email address is raising a red flag in PayPal's system.
6. Your browser is not accepting cookies. You should clear any existing cookies and try again.